Absio
Guardians of the Digital World: The Future of Data Security
Guardians of the Digital World: The Temy-Absio Alliance and the Future of Data Security" delves into the fruitful partnership between software powerhouse Temy and military intelligence firm Absio. Embarking on a mission to fortify digital data protection, this partnership combines cutting-edge cryptography and innovative software development. The article unfolds their collaborative journey, the unique security solutions devised, and the significant role they're set to play in the rapidly growing data security market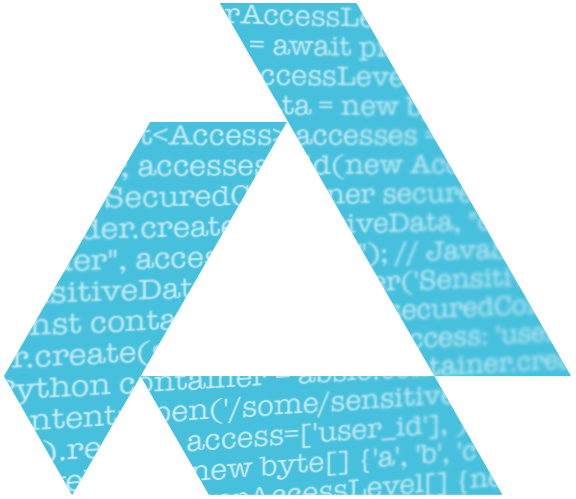 Technologies
absio
Setting the Stage
The Genesis of a Unique Partnership
In a world of increasing digital interconnectivity and omnipresent cyber threats, the synergy between Ukrainian software company Temy and Denver-based military intelligence firm Absio stands out as a beacon of innovation and collaboration. This partnership has its roots in a shared aspiration to redefine data protection norms and secure digital ecosystems worldwide.
Absio's origins trace back to its challenging task of confronting the most formidable data protection problems as a military intelligence company. The task at hand was far from simple: data had to be protected from the moment of its creation, and there had to be a system that did away with centralized servers for encryption keys. Moreover, information control was required to be maintained even when offline. Responding to these exigent demands, Absio pioneered a patented method of software-defined distributed key cryptography, achieving unprecedented data security without hindering data mobility.
The allure of Absio's impressive technology did not go unnoticed. Temy, renowned for its adeptness in software development and its unwavering commitment to providing clients with groundbreaking solutions, recognized the potential of this technology and established a partnership with Absio in September 2016. This was the start of an alliance that would not only survive the onslaught of challenges that came their way but also yield transformative outcomes.
Bridging Divergent Worlds: A Seamless Collaboration
At first glance, Temy and Absio might seem like two entities from vastly different universes. Temy, with its strong foundation in software development and a relentless drive to deliver top-tier solutions to clients, and Absio, born from the principles of military-grade data security, could be seen as an unlikely pair. However, these companies found their common denominator in a shared pledge to secure digital data. In an era where cyberattacks are becoming alarmingly commonplace and sophisticated, their collaboration in delivering solutions that protect data has become a cornerstone in the data protection sector.
By bringing together their distinct yet complementary skill sets, Temy and Absio revolutionized the landscape of data protection. Absio's military-grade security solution was transformed into a multi-language development tool that was not only robust but also easy to implement at the application level using just an API. This fusion of Absio's deep-rooted expertise in data security and Temy's prowess in software development led to the creation of solutions that were secure, efficient, and user-friendly. As a result, the Absio-Temy alliance has been consistently delivering effective solutions in critical areas like identity and access management, end-to-end data protection, secure file sharing, and digital rights management.
Weathering the Storm: Staying Ahead of Cyber Threats
The path to innovation is seldom smooth. Over the years, Temy and Absio have navigated a shifting landscape of cyber threats and evolving team structures. Despite these challenges, the partnership remained not just resilient but steadfast in its mission. Guided by the seasoned leadership of Kristy Matteson, CEO of Absio, and Steven Luplow, CTO of Absio, this partnership has remained unwavering in its commitment to deliver solutions that outpace the ever-evolving landscape of cyber threats.
Their relentless dedication towards securing the digital world and the consistent drive towards innovation has ensured that the Absio-Temy partnership continues to scale new heights, consistently staying ahead of cyber threats and ensuring the protection of sensitive data.
absio
Securing the Digital World
Absio Functionality: A New Paradigm of Data Protection
At the heart of Absio's value proposition lies its suite of data security products that provide end-to-end protection for sensitive data. A key aspect of Absio's innovation is its patent-protected method of software-defined distributed key cryptography, a revolutionary approach that guarantees high data security while retaining data mobility.
The Absio product suite is a comprehensive array of solutions addressing multiple facets of data security:
Identity and Access Management: Absio's solution for identity and access management ensures secure authentication and authorization for users, thereby providing access only to authorized personnel.
End-to-End Data Protection: Absio's end-to-end data protection solution guarantees the safety of sensitive data from creation to storage and transmission.
Private Messaging: With Absio's private messaging solution, organizations can maintain secure, encrypted communication channels.
Secure File Sharing: Absio's secure file sharing solution enables the secure, encrypted exchange of sensitive information.
Digital Rights Management: Absio's digital rights management solution ensures secure control and restriction of access to digital content.
Simplicity and ease of implementation form the backbone of Absio's data security solutions. By integrating its security solutions with just an API, Absio offers solutions that can be harnessed by businesses of all sizes. Moreover, Absio extends its support to clients by offering consulting services to aid in implementing its data security solutions and harnessing their maximum potential.
Harnessing Market Potential: Seizing Opportunities in the Data Security Market
As we continue to stride further into the digital era, data protection and privacy have become more than just buzzwords. With increasing digitalization comes the inevitable surge in the importance of robust data security solutions. According to a report by MarketsandMarkets, the global market for data security is expected to escalate from $17.5 billion in 2020 to a staggering $43.8 billion by 2025, growing at a compound annual growth rate of 20.7%.
The growth of the data security market is propelled by factors such as the increasing adoption of cloud-based solutions, the proliferation of mobile and Internet of Things (IoT) devices, and escalating data privacy and security concerns. As the digital world continues to evolve and mature, the demand for reliable data security solutions is bound to grow, and Absio, with its focus on end-to-end protection of sensitive data and software-defined distributed key cryptography, is poised to leverage this market expansion.
What sets Absio apart from its competitors is its commitment to simplifying data security. By delivering easy-to-implement solutions and engaging with clients to ensure they can fully leverage the capabilities of these solutions, Absio offers a unique blend of robustness and accessibility that makes it an attractive solution for businesses aiming to bolster their data security.
An Alliance Shaping the Future of Data Security
Our alliance with Absio, initiated in 2016, has been an engaging and rewarding journey of securing the digital world. By combining Absio's military-grade security solutions with Temy's expertise in software development, we've created user-friendly, multi-language tools that offer unparalleled data protection.
As the global market for data security braces for exponential growth, our shared commitment to protecting digital data places our partnership in a prime position to seize the future. Absio's comprehensive data security offerings, paired with the rising market demand, makes our alliance poised for continued success.
In the face of the expected growth from $17.5 billion in 2020 to $43.8 billion by 2025, growing at a compound annual rate of 20.7%, the Temy-Absio partnership stands as a beacon of innovative and collaborative success in the global data security market.
Are you ready to brainstorm the next big thing?